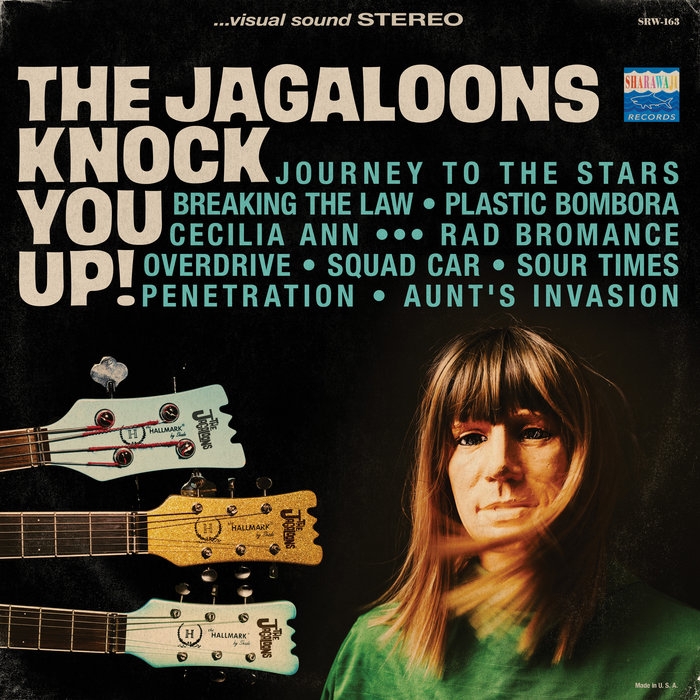 Released
June 2022
Format
Vinyl
Type
/ Music
Added on
Friday, 10 June 2022
Genre
Instrumental Rock
Price
20.00 $
Number of discs
1
Edition date
June 2022
Country
USA
Label
Sharawaji Records
Catalog Number
SRW163
Edition details
Vinyl LP
Tags
sharawaji records
Review
SRW163 The Jagaloons - Knock You Up (Vinyl LP)
Hailing from Albany NY, The Jagaloons play guitar-driven, reverberated, all-instrumental rock and roll. Taking cues from bands like Man or Astro-Man? and Shadowy Men on a Shadowy Planet, this trio takes the surf music of the 1960s and adds modern and eclectic influences, creating their own unique sound.
In June 2022, The Jagaloons officially release their second full-length, Knock You Up!, as a follow-up to their award-winning 2019 debut, Ruin The Party. Knock You Up! features 10 tracks of cover songs, spanning all genres and showcasing The Jagaloons' diverse range of musical tastes.
The Jagaloons are: Kurt Stegemann on guitar, Josh Welf on bass and Geoff Kelley on drums.
Preorder it on vinyl (expected to ship July 2022) or buy on CD on download here - https://thejagaloons.bandcamp.com/album/knock-you-up
#jagaloons #sharawajirecords #albany #albanynewyork #shadowymenonashadowyplanet #theventures #ladygaga #blitz #thepyramids #poisonidea #portishead #thesurtones #judaspriest #thebelairs #instrumentalrock #surfmusic #surfrock #surfpunk #spaghettiwestern #eleki #surf #instro #reverb #twang
No more entries to show...
Items in this compilation
Comments
Chronology