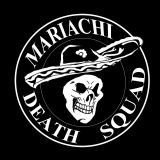 Your own stop chop shop for all things Mariachi Death Squad.
Our next live and actual gig...
Available Files
No files uploaded.

...is likely gonna be next year (2022), the details being:
www.skiddle.com/whats-on/Glasgow/Audio/Nekromantix-plus-Numbskulls-Mariachi-Death-Squad/31985232
If we get a chance to shake loose before then by hell we'll take it, but rules is rules...but turn that frown upside down, if we can't go anywhere we'll just stay inside the studio and record a new LP.  Why not, right?  We got beer and snacks and patch cables.